Hair and Scalp Diagnosis
Kérastase Hair and Scalp Diagnosis: What It Is and How It Works
Kérastase's diagnosis tool can help you improve how you take care of your hair and scalp. Learn everything you need to know about it in this article.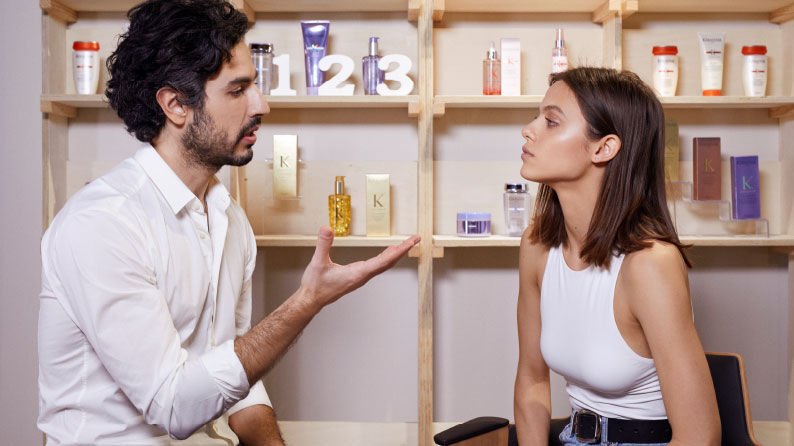 With different hair trends emerging today, you can be sure to find a look that will make you feel confident and empowered. For many people, great style starts from maintaining a healthy scalp and hair.
In hair and scalp care, some regimens that work for others may not work the same for you. And in most cases, relying on a product alone does not always yield the best solution.
Before completely changing your hair and scalp routine, it's important to identify the problems you need to address first. Methods like the online Kérastase hair and scalp diagnosis can tell you the dos and don'ts to achieving the perfect head of hair.
Kérastase Hair and Scalp Diagnosis Explained
The secret to strong and beautiful hair is a healthy scalp. But because hair is so diverse, the efficiency of a treatment may vary from person to person. As such, it's best to know what type of condition you have first and start with a good hair and scalp diagnosis.
While reaching out to your local hair care professional is a safe go-to solution, some may not have the time to fit a visit into their busy schedules. Luckily, Kérastase's online diagnostic tool can help you diagnose your current hair and scalp health through a simple quiz.
How the Kérastase Online Diagnosis Works
The online diagnosis test is a quick and easy tool you can use to assess your current hair and scalp health condition. Here are the steps you'll encounter.
Who You Are
For starters, the test will ask for a brief introduction about yourself. You'll need to share essential information like your gender, age, location, and how often you visit the salon. These will help the tool determine your hair and scalp condition, given these important factors.
Your Hair and Scalp
The next section will focus on your hair and what it looks like. Click on the option that best describes your locks in terms of length, thickness, and type.
Your Lifestyle
Next, the quiz will highlight your usual hair routine. With a range of frequencies to choose from, identify how often you wash your hair, use conditioner, and style it with heat tools.
Your Concerns
In this section, you will pinpoint your primary concern. It can give you more insights into the different types of hair and scalp problems if you're yet to make a self-assessment.
Your Wishes
Lastly, the test will ask what you want your hair to be. Based on your personal preferences, pick out two wishes from the tool's selection of options and then decide how you would prefer to style your hair.

Once done, it will show what problems you can be more prone to and what your hair needs to address them. The tool will also display expert tips and tricks you can use to replicate your salon signature rituals at home with a list of Kérastase products you can switch to for immediate and lasting results.
How the In-Salon Diagnosis Works
The online diagnosis can be a quick and easy way to understand your current hair concerns. But an in-person consultation at a Kérastase salon can help you gain a deeper insight into how you can get your hair and scalp at their healthiest state.
Unlike in the online test, you can ask our team of trained hair and scalp experts questions you may have with building your care routine. You can also gain more detailed advice on different products and protocols to increase your hair and scalp health.
Highlight Your Hair and Scalp Health
Maintaining healthy tresses can be challenging if you don't fully understand the condition of your scalp. Without a proper diagnosis of your current problems, you may find that treating your crowning glory can be a tricky process to go through.
To get the best hair and scalp care solutions, go for the Kérastase experience. Try the
online diagnostic tool
or chat with an expert via
Facebook
for more information on hair and scalp care. You can also book a complimentary in-salon hair and scalp diagnosis with our partner salons via
Loreal Salon Shop
.