A Comprehensive Guide
Kerastase Elixir Ultime Hair Oil: For Ultimate Nourishment & Shine
Learn the benefits of hair oil and why Kerastase Elixir Ultime Hair Oil is a top choice among Filipinas for healthy, shiny, and protected hair. Read more here!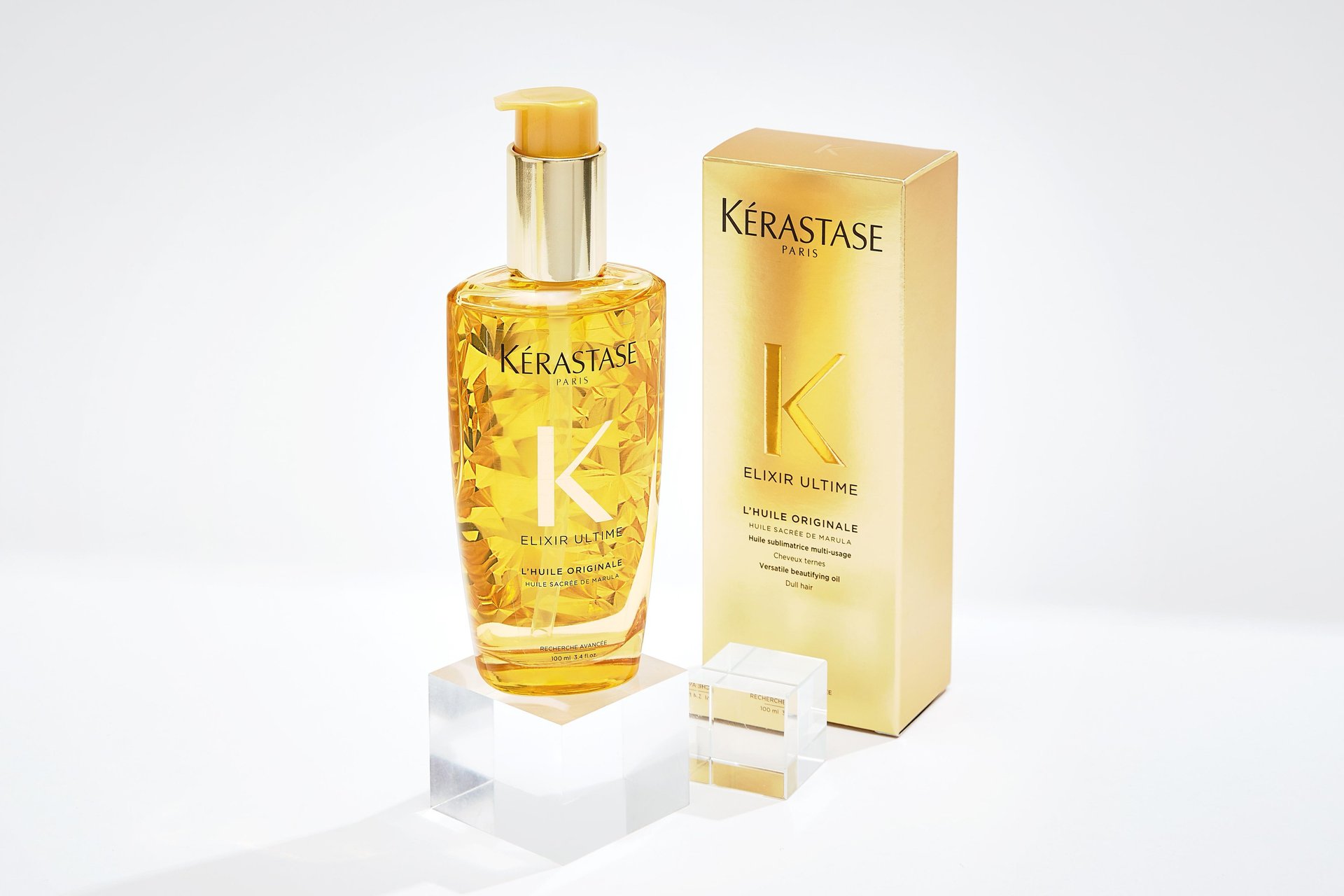 Your hair is an extension of your aesthetics and lifestyle—and it goes through a lot. It's often the subject of your impulsive desire to change your overall look or keep looking chic and put together. At this point, it has been straightened, curled, dyed, or styled, on top of being washed and conditioned regularly.
All these processes inevitably place chemicals that can damage the hair. Uncontrollable external factors, such as the humidity in a tropical country like the Philippines, can cause frizziness. Your diet can also play a big role in severe hair issues if you're not keen on it.
While getting salon treatments can make a difference in aiding these issues, establishing a hair care routine customized to your lifestyle is necessary to ensure that your locks remain healthy and luscious.
There are numerous hair care products on the market today, but one item that should be on your hair care arsenal is hair oil. Hair oils have a long list of proven benefits. For instance, Kerastase Elixir Ultime Hair Oil packs hair care ingredients for various hair types paired with a therapeutic aroma and a long-lasting effect.
Explore the many wonders of Kerastase Elixir Ultime Hair Oil with this ultimate guide to achieving the hair you've always wanted!
What is Hair Oil and Why Do You Need It?
Hair oils are oils extracted from plants, herbs, and fruits rich in various natural nutrients that help promote healthy-looking hair. Ultimately, this hair care product intends to:
Moisturize your hair to prevent hygral fatigue that causes dryness

Reintroduce the gloss-generating hair lipids often lost to chemical treatments, styling, or exposure to pollution

Create a protective barrier against the sun's UV rays, heat treatments, and other damage from styling hair

Manage hair fall and strengthen the hair, particularly with frizz and dryness
Hair oil isn't a comprehensive treatment like any other product. So, make sure to diagnose your hair using the Kerastase diagnosis tool to know the hair concerns you're dealing with before starting a new line of hair care and creating new routines.
The good thing is hair oils are generally proven excellent treatments for the following hair concerns:
Dry, frizzy, and dull hair: Hair oils act as moisturizers for the hair, restoring the hydration it needs to maintain its luscious shine and suppleness.

Dry and damaged: Constant exposure to hair treatments and heat from styling, UV rays, and pollution damages your hair. Hair oils with heat-damage protection create a protective barrier against these external factors. It also smoothens hair frizz and reduces the appearance of split ends by hydrating the hair, preventing further damage.

Flat and greasy: If your locks are on the greasy side, your scalp may produce excessive sebums, which you may remedy by over-washing. Hair oils can help rebalance the scalp's sebum levels, eliminating the greasy sensation and adding volume to your hair.
10 Reasons to Try Kerastase Elixir Ultime Hair Oil
Hair oils are welling with ingredients that can generate significant results for your hair. It's undeniably a hair care option that offers multiple great results, especially when you know which product to go for and how to use it properly.
All these defining benefits are inside the Kerastase Elixir Ultime Hair Oil, and here are ten reasons why you should try this product now.
It's formulated with precious plant oils
The Kerastase Elixir Ultime Hair Oil has marula, camellia, and argan oils that provide a wide range of hair vitamins and nutrients.
Marula oil helps strengthen and moisturize dry, brittle, or damaged hair.

Camellia oil aids with scaling and encrustation while leaving a refreshing feeling without the oily residue.

Argan oil is a natural conditioner that strengthens hair with its rich formulation of vitamins A, C, and E, antioxidants, and omega-3 fatty acids.
It's a favorite of hairdressers all over the world
Janine Whitman, a hairstylist from Michigan's Alex Emilio Salon, attests to the benefits of Kerastase Elixir Ultime Hair Oil. She recommends using it to create a do-it-yourself (DIY) hair mask that will leave "your hair more supple with [a] beautiful shine!"
It's a consistent top-rated product
The Kerastase Elixir Ultime Hair Oil is considered a top-rated item in the hair care industry. Reviews say it's a game changer that enhances soft curls and waves, hydrates, and helps manage frizz, making hair look healthier.
In the Philippines, Kerastase Elixir Ultime Hair Oil is now penetrating not just the crevices of your hair but the local market. Rated to almost perfection, this product is the ultimate hair oil of choice among Filipinas.
It's great for all hair types
One of the best things about the Kerastase Elixir Ultime Hair Oil is its range of benefits and solutions for all hair types. Make sure that you enrich your hair oil journey with research on how you can maximize its benefits to target your hair concerns.
It's a multi-use hair oil
You can use the Kerastase Elixir Ultime Hair Oil throughout your hair care and prep routine. It can be used as a leave-in hair oil to tame your frizz and fly-aways and reduce the appearance of split ends.
The Kerastase Elixir Ultime Hair Oil can also be applied as a leave-in thermo protector for blow-drying and hair styling. It can also be utilized to boost your conditioner or masque by mixing a few pumps with your favorite Kerastase Masque for that extra nourishment and shine.
It smells amazing
If there's one more satisfying thing other than the sensation of applying a smooth layer of oil to your hair, it's the aromatic experience that comes with it.
The Kerastase Elixir Ultime Hair Oil will leave you feeling fresh with its distinct floral and musky scent.
You're sure to pick up its top notes of violet and freesia, complementing its mineral, heliotrope, cedarwood, and mandarin heart notes. As these scents subdue, the smell of Santal Wood and tonka beans stays in your hair and will leave a trail of a musk fragrance wherever you go.
It's scientifically proven good for the hair
The science of scalp and hair is a complicated topic, but the Kerastase Elixir Ultime Hair Oil gets it.
Its combination of argan, marula, and camellia oils assures your hair is treated for a healthy shine paired with an aromatic experience. It also texturizes and manages your locks, and while it activates an intense radiance, it leaves no residue on the hair.
Its texture is luxurious
This Kerastase hair oil is subtle in sensation from when you pump it in your hand to hair application. The consistency is fluid, silken, and never heavy, creating that luxurious hair care experience.
It provides a long-lasting effect
The Kerastase Elixir Ultime Hair Oil is an all-star leave-in hair oil that deeply nourishes dull hair, seals split ends, and smooths the hair fiber for long-lasting frizz control. It also provides 48 hours of visibly intense shine that comes with an exceptional blend of floral and woody scents.
It seals in the shine
The Elixir Ultime routine layers on shine in every step. After nourishing your hair with the line's shampoo and conditioner combo, apply the hair oil to wet hair before styling it to lock in that vibrant luminescence for the ultimate shine.
FAQ: How to Properly Use Hair Oil
Optimize Elixir Ultime to your hair needs and concerns. Learn how to use and apply the product effectively to get the most out of your hair care experience.
How much hair oil should I use?
Consider the length, texture, thickness, and condition of your hair in deciding the amount of Elixir Ultime Hair Oil you need to use. The key is to build up your application, starting with 1-2 pumps. But depending on the volume of your hair, use more as necessary.
Should I use hair oil on wet or dry hair?
Applying the product to wet hair increases its detangling and heat protection benefits but reduces its possible shine. Meanwhile, dry hair application maximizes its shine and targets frizz. To achieve both results, apply 1-2 pumps to wet hair and another 1-2 pumps to dry hair.
What styling tools work best with hair oil?
Curled, straightened, or blow-dried hairstyles look best with hair oil. Since the Kerastase Elixir Ultime Hair Oil has heat-protective features, you can get the best hairstyle with ensured hair care and protection all day.
For expert hair styling, visit your Kerastase hair salon today!
Can I use hair oil if I'm air-drying my hair?
Yes, you can! Applying the product to wet hair enhances its protection from frizz and pollution while leaving a subtle sheen as it dries.
Should I apply hair oil on my lengths only, or can I use it on my scalp?
It's best to apply your hair oil to your hair strands and not directly to your scalp, as it may aggravate adverse outcomes. You can always pair your hair care products with scalp treatments for a more holistic treatment.
How often can I use hair oil?
You can apply the Kerastase Elixir Ultime Hair Oil a couple of times per week. But for extra shine, you can use the product daily. You can apply it an hour before washing your hair and then after it dries. You can also use it for a few small touchups here and there.
What is the secret to long-lasting shine using hair oil?
The Elixir Ultime is formulated with high-performance oils that provide 48 hours of hair oil shine. On top of this, you can apply a minimal amount of the product after styling your hair or touch it up throughout the day to achieve that long-lasting hair oil shine.
Will it make my hair greasy?
Greasy hair can either be caused by your scalp's excessive sebum production or the overapplication of a product. So no, hair oils won't make your hair greasy if you only apply the amount you need. The Kerastase Elixir Ultime Hair Oil can also help rebalance your sebum production.
Will hair oils work on curly hair?
It will! Curls are prone to dryness and frizz, which are two things hair oils target. In addition, use Elixir Ultime to define your curls and give them a boost of moisture and extra shine throughout the day!
Experience the Elixir of Hair Care
Your journey to achieving the crowning glory of your dreams starts with knowing more about your hair and scalp health.
Kérastase offers multiple ways to help you identify what your hair needs and how you can effectively use hair oils to address these concerns. You can take our online diagnostic tool to get started or reach out to our experts via Facebook chat or an in-salon hair and scalp diagnosis in any of our L'Oréal Salon Shops.
Start making hair oil a staple in your hair care routine with its proven benefits so you can rock any hairstyle any day with healthy, protected, and nourished hair.
Pamper those strands that effortlessly bounce and shine as you do. Shop for your own bottle now and experience the luxurious feel, aromatic scent, and visible shine of the Kérastase Elixir Ultime Hair Oil.