Fusio Scrub
Kérastase Fusio Scrub | The Ultimate In-Salon Scalp Exfoliation
Two Fusio Scrub formulas and three essential oil blends feature the finest ingredients for an effective, sensorial experience offering deep cleansing and exfoliation.
It is easy to forget that the scalp is an extension of the skin. Even though it lives right next to the expressive skin of the face. Because it is hidden, we tend to forget that the scalp and its health are the first step to lively, radiant hair. This is not to mention that the scalp is the head's first line of defense against the outside world. Keeping it toned and fresh is a game changer in terms of overall beauty.
Just like the skin on the rest of the body, the scalp is seriously affected by any number of biological and environmental conditions. Fusio Scrub is designed to cleanse and exfoliate, freeing the scalp from deeply encrusted impurities and dead cells, revealing a fresh new surface for radiant hair to take root. The result is not only a balanced scalp that feels great, but totally revived hair with a renewed shine and bounce.
Your Personalized Treatment
After diagnosing your hair and scalp, your hairdresser will select the right Fusio Scrub for you.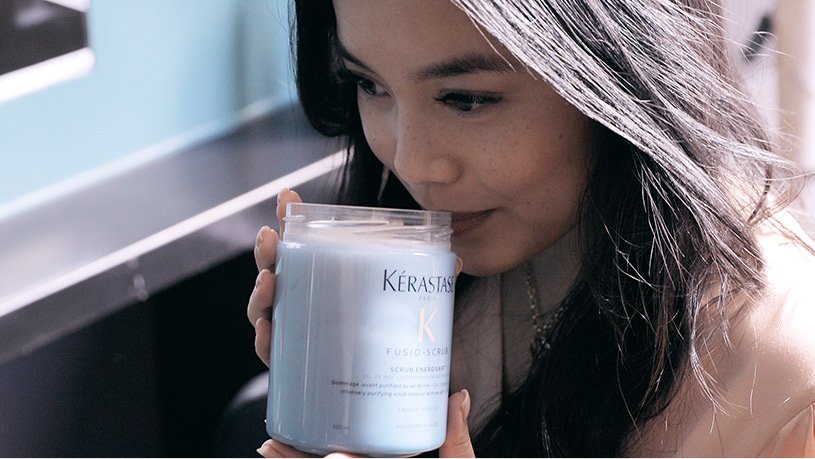 Choose your Olfactory Adventure
Bespoke essential oils blended with Fusio Scrub elevates the scalp treatment to a therapeutic spa experience.
PEPPERMINT
To awaken and uplift the mind.
SANDALWOOD
To soothe and calm the senses.
GINGER
To stimulate and energize the spirit.
Visit an official partner salon near you for a complimentary personalized hair and scalp diagnosis. Ask a hairdresser about the signature Kérastase salon treatments and book an appointment. You can also stop by anytime to browse and shop the complete Kérastase range.​